Back to all posts
Posted on:
CTS Biker Build Off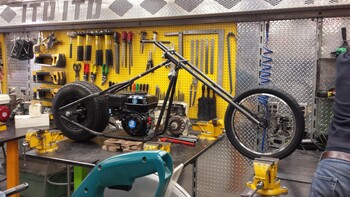 Carmangay Outreach is pleased to announce that we participated in the 2015/2016 CTS biker build off! Our students built a motorcycle in the CTS trailer, located in Nobleford, AB. It was a great experience for our students and we are so proud of how our 5 students did! The bike is now on display at the Carmangay Outreach School. 
Jan. 7, 2016
FOR IMMEDIATE RELEASE
Biker Build-Off provides students with unique opportunities
First-ever team from Carmangay Outreach among Palliser entries
 Take a handful of students from a Low German-speaking Mennonite community and a small, rural school without shop facilities and ask them to build a chopper from scratch.
 Then put high school credits on the line and enter them in a contest with the winner's work displayed at a local motorcycle shop. The scenario looks unlikely, until you add Palliser Regional Schools' Career Technology Studies (CTS) trailers and a roving shop teacher into the equation.
 While that portable technology is important to the Biker Build-Off challenge, even more vital is having a passion for the project. It starts with teacher Ken Sanderson and on this cold winter morning in Nobleford, it's clear it carries over to the team from Carmangay Outreach School as well.
 They may be far removed from the chopper lifestyle of the West Coast, but Sanderson says the students were "chomping at the bit" when they were offered the chance to take part.
 "When you talk to them, you see the excitement and that enthusiasm and how proud they are," he says of the first-ever team from Carmangay. "When they come in here, they've got their cell phones out and taking pictures. They are into this."
 Those students milk the most out of the two hours a week they spend in the mobile, industrial arts classrooms which presently call the Noble Central School parking lot home. Still, they can often be found working on their two-wheeled chariot well into the evening, making the trip to Nobleford and back on their own.
 Sanderson says the students are willing to commit whatever time it takes to build a chopper they can be proud of and it only works if he does the same.
 "If they are prepared to work till 10 at night, than you need to be able to do that too, and I have. When I see a student who is fired up even remotely close to what I am, then I'm there," says the educator, who introduced the locally-developed course seven years ago.
 A long-time biker himself, Sanderson thought a chopper build would fit in well with high school metal fabrication and welding curriculum. While the list of wood-working projects available is lengthy, they are far and few between when dealing with metal.
 The fully-equipped CTS trailers – which also house mechanics, welding, wood-working and jewelry-making courses – means participation isn't dependent on a school having a large shop area.
 In addition to the Carmangay team, this year Sanderson has high school students from Picture Butte, Nobleford and Coalhurst competing in the Biker Build-Off.  The challenge is attractive to students for a number of reasons, Sanderson believes, starting with the liberties it affords.
 "They get the freedom to design and they also get the freedom to build something that's kind of cool. To build something you can actually sit on with an engine that can actually propel you around, when are you going to get an opportunity like that?" he asks.
 Corny Thiessen, one of five members of the Carmangay team, likes the fact the lessons learned are tangible.
 "It's very rewarding to see how stuff comes together and being able to see stuff getting done," says the 16-year-old.
 Sanderson ensures each member of the team gets a chance to work on every piece of relevant machinery in the CTS trailers. Erica Penner discovered a particular talent for welding.
 "It's really fun because you get to play with electricity a bunch," says the 14-year-old. "You have to take your time and have a steady hand and make sure you are doing a good job and take care of all the things you need to take care of."
 The competition aspect also has its appeal, with the winning motorcycle displayed in June at Lethbridge Harley-Davidson, co-sponsor of the Biker Build-Off. Each team has a semester to complete their bike with judging done by staff of the motorcycle shop.
 "I think we need to have a nice, clean build, with not too much crazy stuff on it," says Thiessen, who is confident in his team's chances.
 Penner shares his faith in the team.  While she also enjoys the competition, she says she'd still try her best without it to gain a personal sense of satisfaction.
 The course also provides students with an opportunity to experience potential career paths first-hand and both Thiessen and Penner say it's confirmed their earlier thoughts about getting into mechanics.
 Whether students go into a related trade or not, Sanderson says it teaches them workplace safety skills and more importantly, it prepares them for their future.
 "An employer would come in here and be blown away because the things this program teaches are all the things that they want in employees," he says.
 The Biker Build-Off requires students to be punctual, creative, work as a team and most importantly, problem-solve. Sanderson provides the students with guidance but he lets them "struggle and slug through it" to come up with their own solutions.
 It's also a cost-effective option, as all the parts used are recycled from previous builds.
 "So when you look at it from a dollars and cents point of view, for the school district the bang for the buck is really huge," he says.